Trinsic 24″ Double Towel Bar
Save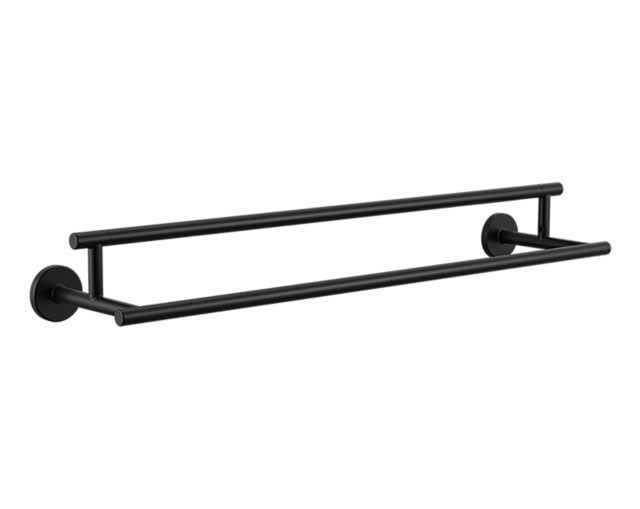 View in a Room
Product Features & Benefits

Features & Benefits:

Perfectly coordinates with the Trinsic bath collection
Extends 6-3/8 in. from wall
Tile/masonry-plastic or lead anchors plaster/drywall-toggle bolts recommend if wood blocking is not available
Mounting hardware and mounting template included with product

Technical Details:

Accessory Type:

24" Towel Bar

Cleaning & Care

Can drain openers cause damage to finishes?

In most cases, the finish is safe if you follow the manufacturer's instructions for use and make sure the drain cleaner isn't left on the finish for longer than 30 minutes.

What cleaning products can cause damage to finishes?

Always blot dry any water from faucet surface. Allowing water to evaporate on the surface can lead to build up of mineral deposits. Cleaning with a damp non-abrasive sponge and buffing it dry with a clean soft cloth should help keep your product looking beautiful. To remove water spots, use warm water and a soft, damp cloth. Hard water stains may be removed using a 50/50 solution of white vinegar and water. Make certain that you rinse thoroughly with water afterward.

If additional cleaning is required, all of our finishes may be cleaned with the following household cleaners: Fantastik® All Purpose Cleaner, or Windex® Original Glass Cleaner, when used according to the manufacturers' instructions for use.

Avoid using the following which can damage your finish:

Avoid industrial cleaners and abrasive cleaners, such as those used for toilet bowls, green Scotch-Brite heavy duty scrub sponges, Scrubbing Bubbles Bathroom Cleaner and Lysol Basin Tub, Soft Scrub, and Tile Cleaner.
Avoid products that state on the label that they remove tarnish and rust, and those containing hydrofluoric, hydrochloric and/or phosphoric acids and caustic agents.
Avoid harsh abrasives or polishes
Avoid bleach-based cleaners

What is a Brilliance® finish?

Brilliance® finishes, designed to not corrode, tarnish or discolour for a "like-new" look for life, are developed by embedding molecules deep into the faucet's surface, creating a bond that is virtually indestructible. This process is known as Physical Vapor Deposition (PVD). Delta was the first manufacturer to offer this patented process that creates a bond that's virtually indestructible with an incredibly reflective shine. Brilliance resists abrasions and discolouration better than traditional special finishes and, in many cases, better than chrome. In independent tests using the harshest drain cleaners, the Delta Brilliance drain retained its appearance, while its competitors did not come close. Tested with over 100 household cleaners, the abrasion resistance of the Brilliance finish can even withstand repeated scouring with steel wool. A Brilliance finish is guaranteed not to corrode, tarnish or discolour for as long as you own your home. It can even withstand prolonged exposure to harsh coastal environments.

Support & Repair Parts

IMPORTANT: If your device does not have a PDF viewer, you will need to visit your phone's manufacturer's website to download a PDF viewing app first.