Toilets
When it's time to replace a toilet, your top concerns are easy removal of the old toilet and easy installation of an attractive and water-efficient new one. Delta understands. Available in two styles that have been beautifully designed for easy intstallation, maximum flush and water savings, the Delta® WaterSense® labeled two-piece toilets offer everything you need in a toilet.
Beautifully designed.
Easily installed.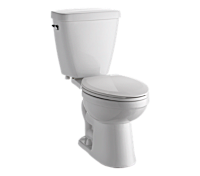 ---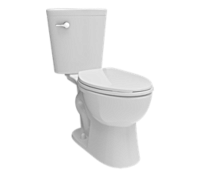 ---
Maximum Flush, Save Money
Offering you maximum flush power while saving you money, Delta® 4.8Lpf WaterSense® labeled toilets are virtually clog-free and offer savings of more than $90/year in reduced water bills.
*EPA estimates that a family of four replacing its home's older toilets with WaterSense® labeled models will, on average, save more than $90 per year in reduced water utility bills.
Learn More
SmartFit™ Tank-to-Bowl Connection
The exclusive SmartFit system reduces potential leak points, over-tightening of the fasteners and cracking the toilet. Utilizing a metal bracket on the bottom of the tank to secure the bolts to the bowl, the SmartFit tank-to-bowl connection eliminates the need for holes typically found in the bottom of the tank. For the convenience of the installer, the three bolts on Delta® toilets are preassembled to the mounting plate.
Learn More
No Additional Tools Required
Delta® toilet kit includes the tank, bowl, toilet seat, mounting hardware and wax ring. Integrated supply line models also include the factory-installed water supply line. Included in the box is the SmartFit™ Multi-Tool. This multi-function tool includes a wrench specifically designed to fit the bolts and a two-in-one screwdriver adapter to secure the other mounting components. No additional tools are required.
EZ Out™ Toilet Removal Kit (Corrente™ model only)
The Delta® EZ Out™ Toilet Removal Kit makes it easier to uninstall your old toilet by providing many of the items you need: a pair of disposable gloves, a disposable scraper, a highly absorbent sponge, and a cloth for cleaning up and to plug the floor drain when the toilet is removed.
Quick Release Seat (Corrente™ model only)
The Quick Release Seat on the Corrente™ model allows you to easily undock the seat to remove it for cleaning.
Chair Height
All Delta® toilet models offer ADA compliant Chair Height to make sitting down and standing up easier.
Watch our how-to video to learn how to install a Delta toilet.
Watch Video